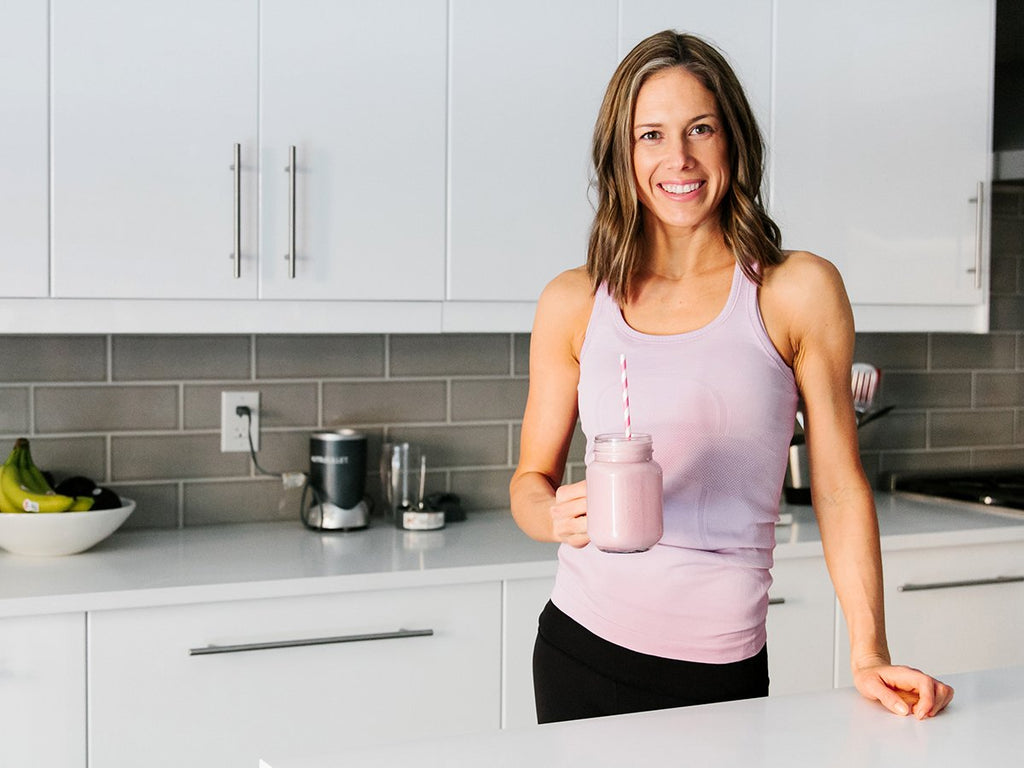 By Tracy McMaster, personal trainer. 
We all know how you eat can have a huge effect on the results you get from your workout or weight loss, and one of the most frequently asked questions I get is "What do you eat in a day?" Full disclosure - I am not a certified nutritionist or a dietitian, but I am passionate about my healthy lifestyle and I am first to admit that transforming your body starts first and foremost with your diet.
Here's what I eat on a typical day of the week. You'll notice right away that I eat several meals a day, rather than two or three big ones and drink 8-10 glasses of water throughout the day!
Breakfast
I start my day with a glass of room temperature lemon water followed by a coffee. I am diligent about having breakfast half an hour before my workout which typically consists of a small sprouted wrap filled with 2 eggs, a handful of spinach and a cup of fruit on the side.
Post Workout
Post workout I fuel my body with a plant-based smoothie that consists of protein powder, half a cup of frozen fruit, water and ice.
Mid-morning Snack
A small handful of cashews, 2 tablespoons of hummus and a cup of veggies.
Lunch
For lunch, I keep it simple, especially if I am working from home. I love a spinach salad with cucumbers, tomatoes, peppers, 1/2 cup chicken and 1/2 cup of (cooked) quinoa!
Afternoon Snack
For my afternoon snack, I love apple slices with nut butter.  Easy and delicious.
Dinner
My fave meal of the day! Fajitas are fun for the whole fam. If possible, I will avoid buying taco kits from the store because they tend to be full of salt, and spice the meat or fish myself. I add peppers, zucchini, plain yogurt and smashed avocado with small whole grain tortillas.
That's it!
I keep it simple, to keep it possible and although I have a pretty strict diet, I don't deprive myself. I still enjoy wine, sweet treats, big bowls of pasta and a good ol' burger and fries, but these indulgences are not part of my everyday routine, they are treats that happen occasionally.
As much as we don't want to admit it, it will take time to get your body in a routine of working out daily and eating healthy, so to keep you motivated, I wanted to share my top tips for getting (and staying) motivated!
1. Surround yourself with people that like to eat how you eat.
Statistics say that working out with a friend can boost motivation and help you lose more weight! It's time to grab a friend and keep each other accountable. 
2. Move your body every day.
I always tell my clients that you will be more successful if you are doing what interests you and challenges you the most. Finding a class, a teacher or a sport that you love is another great place to kick off.
3. Don't give up!
I'm constantly reminding my clients (and myself) to not to get frustrated and to stay on the path. If you have a bad day, always remember tomorrow's a fresh start!
4. Most importantly, find a system that works for you! 
There isn't a one size fits all when it comes to health and wellness! But always remember, the only bad workout is the one that didn't happen.
I am fortunate to not be dealing with any specific food intolerance's, or health conditions and you should consult with a healthcare professional before starting any diet or exercise program.
I love discussing health and fitness! I look forward to sharing my thoughts with you here each month. You can find me at @trainwithtracy if you have any comments or questions along the way!
---