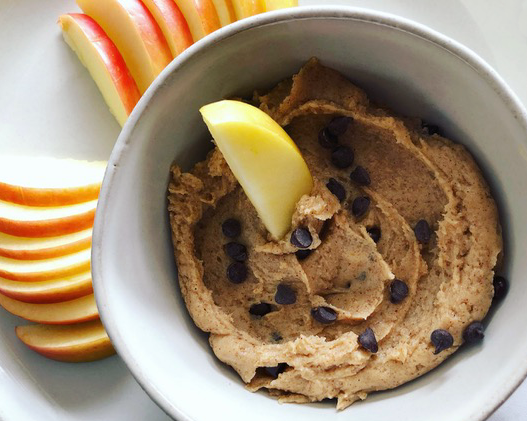 By Jayme Williams, Fitness Nutrition Specialist and Contributing Blogger
With spring and summer right around the corner and two little bellies to keep fed, I've got to start getting creative with my meal and snack offerings.  I always try to teach my kids the importance of a balanced meal (with healthy fats, carbs, and protein), so having them help me whip up snacks in the kitchen is the perfect way to do that!  My 4-year old son especially loves helping me – he can spend quite a while in the pantry/fridge looking for the "da BEST idea!".
By teaching them how to put together balanced meals and snacks, they're learning how different types of foods work together to fuel our bodies, help us grow, keep us feeling full longer, and help prevent health problems in the future.  
For instance, by adding a dollop nut butter to your oatmeal (fat + carbs), you're helping slow the rise and fall of your blood sugar, which will keep you feeling full longer and not reaching for a snack 30-minutes later.  The same is true for adding avocado (which my son LOVES) to a bowl of chicken, a little brown rice, and beans. I feel great knowing that I'm showing them not only what healthy foods are, but also how to combine them, that will help them have a healthy relationship with food for the rest of their lives.
Some of their snack-time favorites are:
low sugar yogurt (such as Siggi's and Two Good) with a little fruit + granola

homemade "energy bites" kept in the freezer (which you can find on my site)

banana coins topped with a little nut butter + 1-2 Enjoy Life mini chocolate chips

whole grain crackers (such as Back to Nature or Simple Mills) with sliced turkey meat + cheese
But I'm introducing a new snack that I'm sure will be a hit…Chocolate Chip Almond Butter Cream Cheese "Fluff" served with apple slices.  Oh. Yeah.
I actually used vegan cream cheese for this recipe, since that's what I usually have in the house.  My family doesn't have any issues with dairy, but I myself am lactose intolerant. So using the vegan cream cheese works out in my favor, since that means I get to enjoy this yumminess, too!
CHOCOLATE CHIP ALMOND BUTTER CREAM CHEESE "FLUFF" 
Serves: 4
Prep Time: 3 minutes
Ingredients
½ tub vegan cream cheese (such as Mikoyo's or Kitehill)

2 Tbsp creamy almond butter (I used Trader's Joes, but any brand will work as long as it's creamy)

couple drops of liquid vanilla-flavored stevia (can sub for plain)

a few pinches of Enjoy Life mini chocolate chips

a sliced organic honeycrisp apple for dipping
Instructions
In a small bowl, mix cream cheese vigorously with a spoon (which helps add air into it and make it fluffier).  Mix in almond butter and stevia; mix again. Gently fold in chocolate chips. Store any leftovers in fridge for up to 3 days.
Be sure to check out my feed and blog for more healthy, kid- (and husband) approved meal and snack ideas!
Jayme Williams, RN, NASM-CPT, Fitness Nutrition Specialist
---