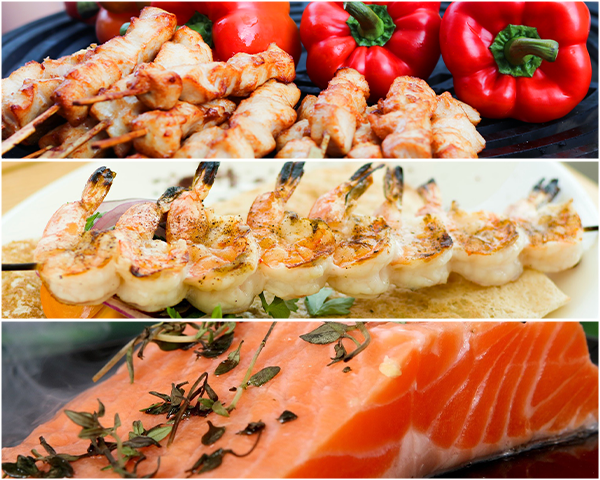 By Anna Compagine Cohen, Contributing blogger
Summer's here and it's time to fire up the coals! Warm nights and sunny weekends are just perfect for grilled meals with friends and family.
But grilling doesn't have to mean hot dogs and burgers. If you're feeling healthy-ish, try one of these yummy recipes for a light, fresh summer vibe.
1. Cilantro Lime Grilled Salmon
Seafood is the perfect summer food, and the cilantro/lime combo gives it that extra zing! Flipping fish on the grill is all about timing. Once the char marks appear, you should be able to flip it, no problem. If you feel any resistance at all, wait a little bit longer.
Ingredients:
4 salmon fillets, 6 oz. each

4 tablespoons butter

1/2 cup of lime juice

1/4 cup of honey

2 garlic cloves, minced

2 tablespoons chopped cilantro

Kosher salt

Fresh ground black pepper
Instructions:
Season salmon with salt and pepper to taste. Place salmon on the grill, flesh side down. Cook for 8 minutes, then flip. Cook on the other side for about 6 minutes, until the salmon is cooked through.

Let the salmon sit for 5 minutes.

While the salmon is cooking, combine butter, lime juice, honey and garlic in a medium saucepan over medium heat. Stir until butter is melted and all ingredients are combined. Remove from heat and add chopped cilantro.

Pour the sauce over salmon and enjoy!


2. Grilled Peach and Brie Smothered Chicken
Grilling fruit caramelizes the natural sugars and adds a deep, rich flavor. Pair with the creaminess of soft Brie cheese, and you'll have this recipe on repeat all summer.
Ingredients:
1 pound chicken breasts

Kosher salt

Fresh ground black pepper

1 ripe peach (check for firmness)

4 ounces Brie cheese

Olive oil
Instructions:
Set the grill to medium high. Brush rack with olive oil.

Sprinkle chicken with salt and pepper to taste

Cut peaches in half and grill, cut side down, for 4-5 minutes or until lights charred. Once cooked, cut into wedges.

Grill chicken for 5-6 minutes. Flip, top with peach slices and Brie, and grill for an additional 2-3 minutes or until juices run clear.


3. Honey Lime Chicken Skewers
Kebabs are always a hands-free grilling favorite! This marinade is quick and easy, perfect if you have a busy summer day planned.
Ingredients:
For the salad:
I pound of boneless, skinless chicken breasts

3 tablespoons soy sauce

2 tablespoons honey

1 tablespoon vegetable oil

Juice of one lime

2 garlic cloves, minced

1-2 teaspoons sriracha

Red pepper flakes

2 tablespoons cilantro
Instructions:
Soak wooden skewers for at least 20 minutes.

Combine all of the ingredients except for the chicken in a small bowl. Stir until thoroughly mixed.

Pour marinade over both sides of chicken breasts, ensure that they are evenly coated.

Cover and marinate in the refrigerator for at least one hour.

Cut chicken into thick cubes and skewer.

Grill on medium-high heat for 6-8 minutes per side, until chicken is cooked through.


4. Pesto Shrimp Skewers
Southern Italy? Maybe! The pesto and lemon in this easy recipe infuse the shrimp with an irresistible Mediteranean flavor.
Ingredients:
1 pound medium or large frozen shrimp, deveined and thawed

3 lemons, sliced thinly

Extra virgin oil

Kosher salt

Fresh ground black pepper

1/2 cup of pesto
Instructions:
If using wooden skewers, soak in water for 20 minutes

Preheat the grill to medium-high.

Alternate 3-4 shrimp with lemon slices on each skewer. Drizzle with olive oil and add salt and pepper to taste.

Grill 4-5 minutes, tuning occasionally, until shrimp is opaque.

Brush lightly with pesto and enjoy!


5. Delish Grilled Vegetables
Grilled vegetables are the perfect summer side dish. The trick to the most delicious vegetables is simple: cut them into bigger chunks, which can be grilled longer. Extra charring = better flavor!
Once you've cut the vegetables, you can cook them on a skewer or in a grill pan so they don't fall through the rack.
Ingredients:
The Vegetables:
Asparagus

Bell peppers, walls only, cut into wedges

Eggplant, cut in half lengthwise then sliced

Mushrooms

Red onion, peeled and sliced into wedges

Zucchini, sliced on the diagonal
For the Marinade:
1/4 cup of olive oil

2 tablespoons of honey

4 teaspoons balsamic vinegar

1 teaspoon dried oregano

1/2 teaspoon garlic powder

1/8 teaspoon fresh ground black pepper
Instructions:
Wash and slice vegetables, set aside.

Whisk together marinade ingredients in a large bowl. Add vegetables and toss to coat thoroughly.

Grill for 8-12 minutes on medium heat, turning occasionally.
---