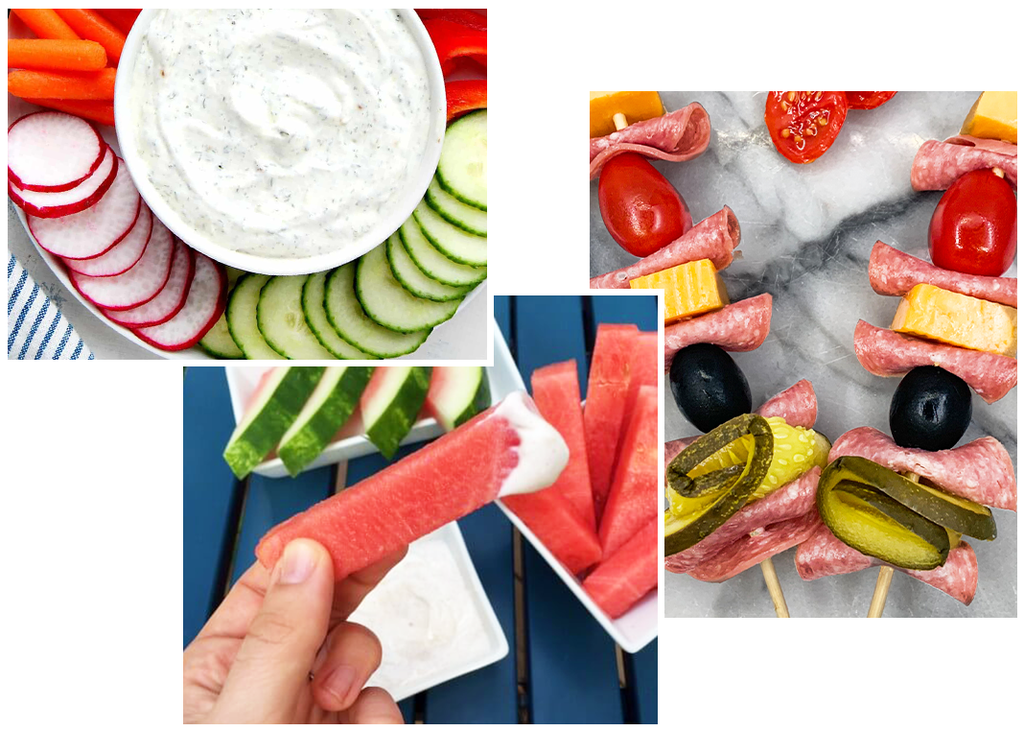 By Katy Duncan, Contributing Blogger
Summer is coming to an end, but that doesn't mean summer snacks have to. As many of us return to the office and kids head back to school, meals and snacks can be tricky to keep up with amongst all the chaos and newfound tasks on our to-do lists. 
As someone who strives to create more time in their day but also loves a good snack, I've tried and tested some sweet, summer tasties and come up with some of my own, and put them all right here for your own ease and access! 
Eating healthy doesn't have to be a challenge, and healthy foods don't have to be bland and boring. Living a healthy, happy lifestyle starts from the inside out. You are what you eat, they say! So why not eat something that's good for you and tastes amazing?!
Cream Cheese Veggie Bites
This easy to make snack is delicious and nutritious! Celery and Cucumbers are a great source of vitamin K as well as being packed full of healthy minerals. 
Ingredients
Cream Cheese- Approximately 6 oz
2 Cucumbers (Peeled and cut)
4 Celery Stalks (Cut into 2 inch sticks)
Everything but the Bagel Seasoning 
Directions
Wash and peel cucumbers.
Cut into slices.
Wash and cut celery. 
Place veggies onto a plate or serving tray.
Spread approximately one tablespoon of cream cheese onto each veggie. 
Sprinkle Everything but the Bagel Seasoning on top. 
Enjoy!
Watermelon Bites with Whipped Dip
A sweet treat for summer days! This recipe is great to take to potlucks, school functions or to keep in the fridge to satisfy that sweet tooth. 
Ingredients
Watermelon 
Cinnamon-2 Tablespoons
Cream Cheese-Approximately 6 oz
Powdered Sugar-¼ Cup
Directions
Cube watermelon. 
Toss in a bowl with cinnamon till covered. 
Whip cream cheese in a bowl with powdered sugar. 
Dip, eat and enjoy!
Charcuterie Skewers 
Tasty, easy to assemble and travels well; These skewers are ideal for back to school lunches or storing in the staff room fridge.  
Ingredients
Salami- 10 slices
Cheese- 10 cubes
Cherry Tomatoes- 10
Pickles-10
Olives-10
Directions
Skewer ingredients onto wooden skewer sticks in order that they're listed above. 
Be careful not to poke yourself and enjoy!
The recipes above are ideal for take-and-go snacks on the road or to prep in the fridge for an easy at-home bite. Mix up the ingredients list to match your own dietary preferences and needs. Vegetarian? Swap out the meat on the Charcuterie Skewers for Tofurky, or add more olives and pickles. Vegan? Use hummus instead of cream cheese for the Cream Cheese Veggie Bites. Just as tasty of a combination!
Now that you've got the inside scoop and what ingredients you need and what to do with them, what are you waiting for? Get cookin' and get snackin'. 
---