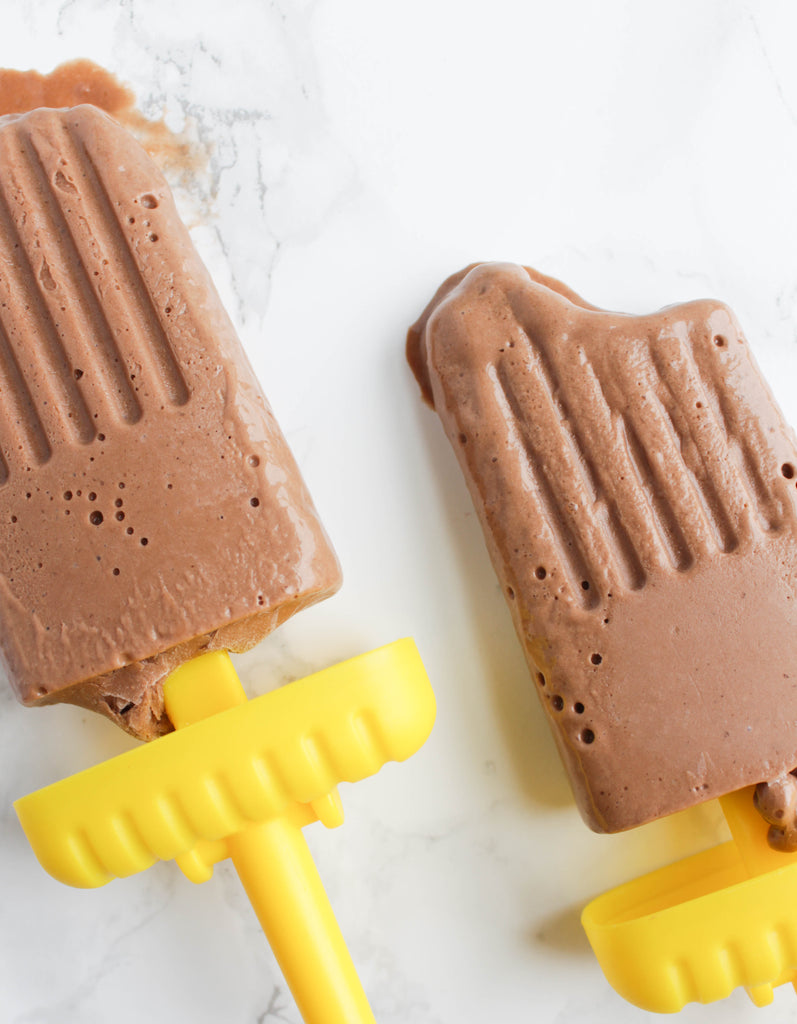 Recipe from Mariah Elizabeth @freshwaterpeaches
Today I'm sharing a "healthified" version of my favorite childhood summer treat – FUDGESICLES! Growing up I loved popsicles, Italian ice, sherbet, ice cream sandwiches. I think you get the picture. 
Is there anything better than a popsicle on a hot summer day???
I've experimented with homemade popsicles before, but they never came out good enough for the blog. (Too watery/icy, which is SUCH a turnoff.) Last week it was 80 degrees and I was sitting on my deck eating a frozen green banana wishing it was ice cream... so I started thinking how I could come up with a new frozen dessert recipe. In the past I made popsicles with coconut cream being the base. That works, but it also alters the flavor. You know what doesn't really alter the flavor?! GREEN BANANAS. They create a creamy consistency without a strong flavor. Once I had this idea of creating green bananas into popsicles, I started thinking about how I could flavor them. And then I thought... could I use COLLAGEN?! I whipped out my blender and started throwing stuff in!

Ingredients
2 Large Green Bananas – Peeled

2 Scoops Ancient Nutrition Keto Cocoa (or any chocolate collagen)

1/3 Cup Filtered Water


Directions
Add into your blender 2 green bananas – either frozen or fresh, 2 scoops of the Keto Cocoa, and 1/3 cup filtered water. Blend until fully combined. If it seems too thick, add a little more water!

Add the mixture into your popsicle molds and freeze for at least 2 hours.

Pop them out and ENJOY!
---