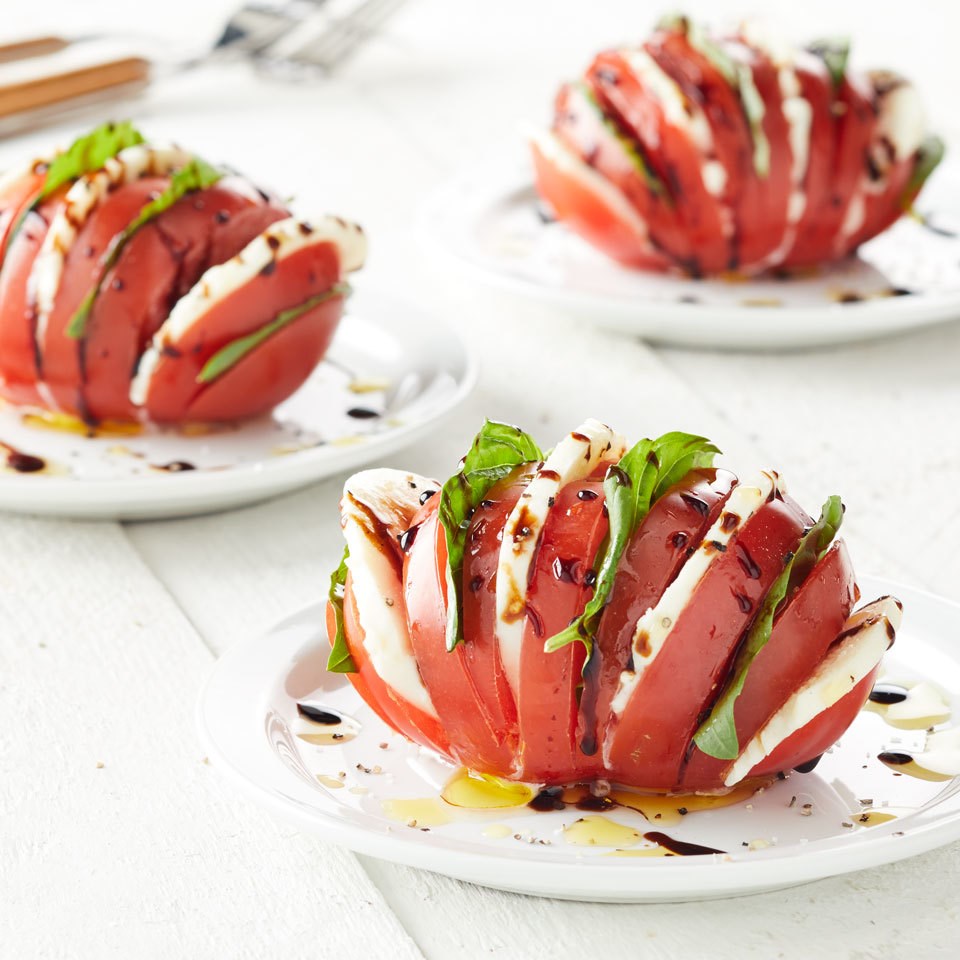 By Katy Duncan, Contributing Blogger
Spring has sprung and you're going to want to try out these spring-inspired recipes, ASAP. 
When I think of spring, I think about sunshine, flowers blooming, and more of my favorite fruits and veggies coming into season. Anyone else? There's something about fresh food and good weather that just pairs well together. 
All of these recipes incorporate those signs of spring and have a fresh, clean taste to them. Keep reading for some fun foodie finds. 
Two-Bite Caprese Salad 
These are great to bring to a picnic or potluck. They're easy to make, store well in a fridge or cooler, and are a great hand-held appetizer that everyone will love.
Ingredients: 
5+ San Marzano Tomatoes (this type of tomato is longer in shape making it easier to fit multiple slices of mozzarella)

10+ Mozzarella Slices

10 + Basil Leaves

1 Teaspoon Pesto per slice 

Sprinkle of Salt and Pepper 

Drizzle of Balsamic Vinaigrette 
Directions: 
Turn the tomato so it's laying out longways horizontally. Slice the tomato with vertical slices without cutting it all the way through. There should be 3-4 slits made in the tomato.      

Fill those slices with pesto, mozzarella, and basil. 

Sprinkle salt and pepper on top with a drizzle of balsamic vinaigrette.   

Serve as is or bake in the oven at 400 degrees for 10 minutes to get things melty and toasted.
Creamy Spinach Stuffed Salmon
I would argue that you could take almost any food, stuff it with something else and it will make it infinitely better. We've seen this done with stuffed crust pizza, stuffed chicken, stuffed bell peppers, and more. Foods on their own, sure, they're delicious. Stuff them with cheese and spices and they're even better. 
Ingredients: 
Filets:
6 Salmon Filets (about 4oz each)

1 Teaspoon Salt

1 Tablespoon Olive Oil

1 Tablespoon Butter

Juice from ½ Lemon
Stuffing: 
1 ¼ Cup Cream Cheese 

1 Cup Spinach 

⅓ Cup Artichoke Hearts (optional)

¼ Cup Parmesan Cheese (shredded)

2 Cloves of Garlic (minced)

1 Teaspoon Chili Flakes 
Directions:
In a large mixing bowl, blend all stuffing ingredients together till thoroughly combined. 

Slice salmon filets in half without cutting all the way through. Create little pockets for your stuffing mix. 

Scoop stuffing into pockets. Using a spoon to fully disperse and evenly spread stuffing in filet. 

Heat olive oil in a large pan over medium-high heat.

Lightly salt tops of salmon filets. Sear filets for 5-6 minutes on each side, starting skin side up. They should develop a nice golden crust and that's how you'll know when to flip them. Leave a few extra minutes for a crispier crust. 

Coat with butter after turning. Baste the salmon filet with butter and oil from the pan while cooking the other side. 

Remove from pan and allow to rest for 2-3 minutes. 

Squeeze lemon juice over filets before serving. 
Strawberry Meringue  
These are great as-is or as a part of a larger, more comprehensive dessert. Strawberries just ~scream~ spring and this dessert item encapsulates spring well. With just a few simple ingredients, it's ideal when you don't have a lot of time. 
Ingredients: 
  5-7 Egg Whites  

  ½ Cup White Granulated Sugar 

  1 Cup Strawberries (Puree or Chopped)

  ½ Teaspoon of Vanilla (optional)
Directions:
   Add egg whites to a medium-sized mixing bowl.

   Add sugar (and optional vanilla) and blend together till mixture begins to make stiff peaks when pulled upwards. This can be done by hand or with a hand mixer. 

  Add in strawberry puree and mix thoroughly or proceed to the next step.

  Add meringue mix to a piping bag (if you don't have one of these, you can use a ziploc bag and cut the corner off).

Squeeze meringue onto a greased baking sheet. Approximately the size of a golf ball.

Top with chopped strawberries if you chose to add the berries that way as opposed to a puree mixed in. 

Bake in the oven at 350 degrees for approximately 15 minutes. Peaks should be golden brown and lightly toasted. 

Serve alone or with other desserts.
As the weather warms up, I think we can all agree that we're looking forward to more variety in our foods and lighter, fresher meals. Many of us have been carb loading with breads, pastas, and comfort meals through the cold winter months. Now it's time to lighten the mood and lighten our meals!
These spring-styled recipes are tried and tested, delicious and taste bud approved. Throw on that floral apron you've had tucked away and get cookin'!
---