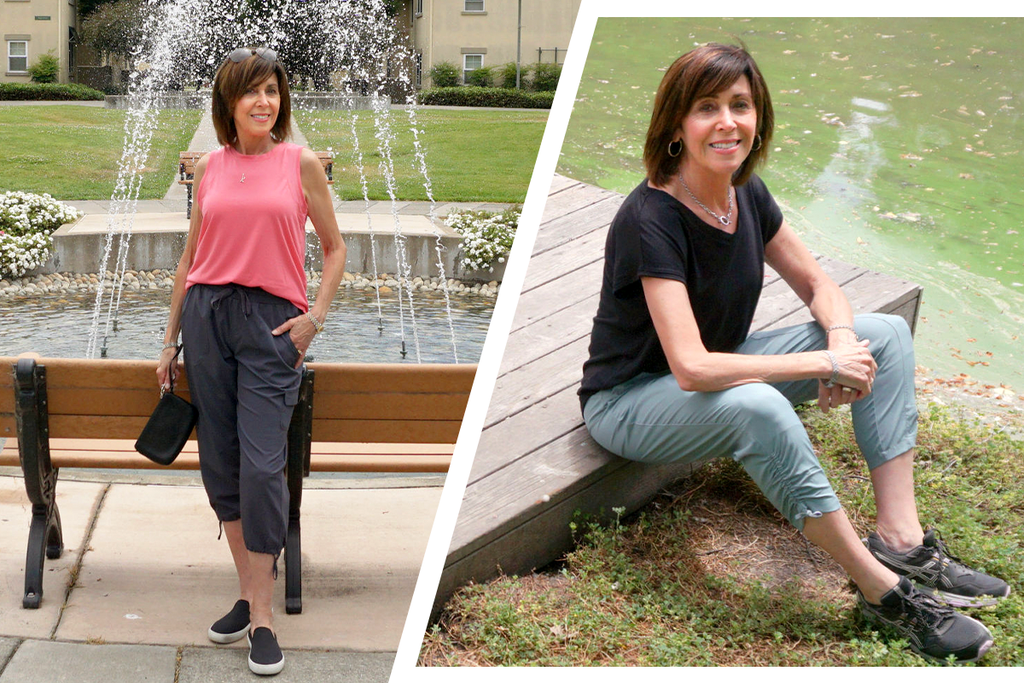 By Karen Tarver, Contributing Blogger
Athleisure - a term that's immediately recognizable, and it's become a leading category in casual, active, lifestyle wear. I'm pretty sure that most of us now incorporate athleisure into our everyday wardrobe.
And we are loving it!
Athleisure for Our Lifestyle
When we think of athleisure, what comes to mind is style, comfort, and versatility. The most flexible athleisure pieces are those that can take us from our favorite activity – running, yoga, Pilates, cycling, weight workouts, hiking, or walking – and move us seamlessly into the rest of the day.
I've become a big fan of athleisure clothing especially since I, like many, suddenly found myself working from and staying home in the spring of 2020. I love easy-to-wear jogger style pants that work for my daily three mile walks, weekly Pilates classes, at-home workouts, and hiking outings, and that can transition to running errands, visiting friends, and even a casual lunch date. Also, my favorite air travel outfit now always incorporates jogger style pants – it's the best thing to wear when you want to look and feel styled and be comfortable sitting in the seat of an airplane for hours.
Choose Clothing That Supports Your Lifestyle
The beauty of athleisure (I know I've already said this – but it bears repeating!) is that it's so versatile! Jogger style pants with a "workout" tank takes me from exercising to errands without feeling like I'm wearing workout wear for the whole day. Simply switch from athletic shoes to a pair of slip-on sneakers, grab a purse, and I'm set for the next part of my day. 
RBX styles can meet you just where you are, offering the perfect solutions to an active and busy life, as well as "just right" attire for those work-from-home days or movie binging weekends.
The more obstacles we put in the way of our workout routine, the more likely it is that we find reasons (or excuses!) not to do it. If you plan to go for a quick jog or power walk but first have to change clothes before jumping into the errands part of the day, you may feel like there's not enough time for both. In that scenario, the exercise may be the thing you cut out so you have time for must-do errands. But if you can go from exercise to errands without stopping to change clothes – yay! – both "must-dos" get done!
Prime Anywhere Cargo Capri Pant
Capri length joggers are the way to go when you prefer to wear something longer than shorts but want to dress for summer heat. These joggers are so lightweight that it's almost like wearing nothing. The drawstring at the bottom hem allows you to style the pants with a fitted or loose hem – you choose!
Everyday Easy Mesh Detail Tank
This tank is a multi-tasker for sure! The mesh detail around the sleeve opening and the fun and flexible shirttail, high-low hemline makes the top perfect for way more than working out. It's a great addition to your summer wardrobe. (I found that a racerback bra works best with this top if you don't want straps showing.)
Movement for Physical and Mental Health
Movement is an important aspect of self-care. But you don't need to be a competitive athlete or spend money on a gym membership to be fit and take care of yourself. And keep in mind that self-care encompasses both physical and emotional/mental health. 
If you're trying to build a new habit of incorporating movement into your week, start small and add. Try beginning with a 30 minute walk three days a week. You'll likely find that after a few weeks you'll be ready to naturally add time or days to your new habit. And now that our summer weather is here, outdoor activity gives us the benefit of exercise along with getting out in nature and absorbing a little vitamin D!
Along with many, I gave up my gym membership in 2020 and transitioned to at-home workouts, and I love it! One of my favorite activities has been daily walks in nature. 
I find it helpful to use a fitness app that keeps track of distance and time – it helps to keep me accountable! Planning two or three regular routes of different lengths can assist in making sure you're "going the distance" for the maximum benefit based on your time availability and sometimes even the way you're feeling on a particular day.
Walking or jogging in a beautiful natural setting is a great stress reliever. I've started to incorporate gratitude practice when I'm in the midst of beauty and find that it enhances my enjoyment of the exercise. Building a habit of gratitude, for example, training yourself to notice and appreciate the good things, then expressing gratitude for them, can have a multitude of benefits, including feeling happier, reducing anxiety, encouraging healthy habits.
Riley Textured Ankle Pant
The Riley Textured Ankle Pant that I'm wearing in Blue Sage has fun style detail (I'm a sucker for details) and is a perfect summer pant. It offers roomy pockets (I'm always looking for a way to carry my phone so I can use my fitness app) and a super comfy, stretchy waistband with a drawstring for the perfect fit. I love the adjustable ruching on the sides giving the option to adjust the length of the pants a bit.
Breezy Hi Low Tee
The Breezy Hi Low Tee is multiple tops in one! I love the shirttail front and back hemlines. It looks great both untucked and tucked in. My favorite way to wear it is with the front tuck – front in and back out.
Stretching – Just as Important as Working Out!
Think of daily stretching as a treat – it absolutely feels like one! Incorporate daily stretching at a time when you are likely to actually do it. It feels amazing and it helps to maintain flexibility and balance. Daily stretching is really an important factor in overall health and supports your physical activities so that you stay injury-free. The beginning and/or end of each day is a good time for a stretching routine. At night, stretch in a quiet, dimly lit room, which can contribute to a nice sleeping routine as well. 
---