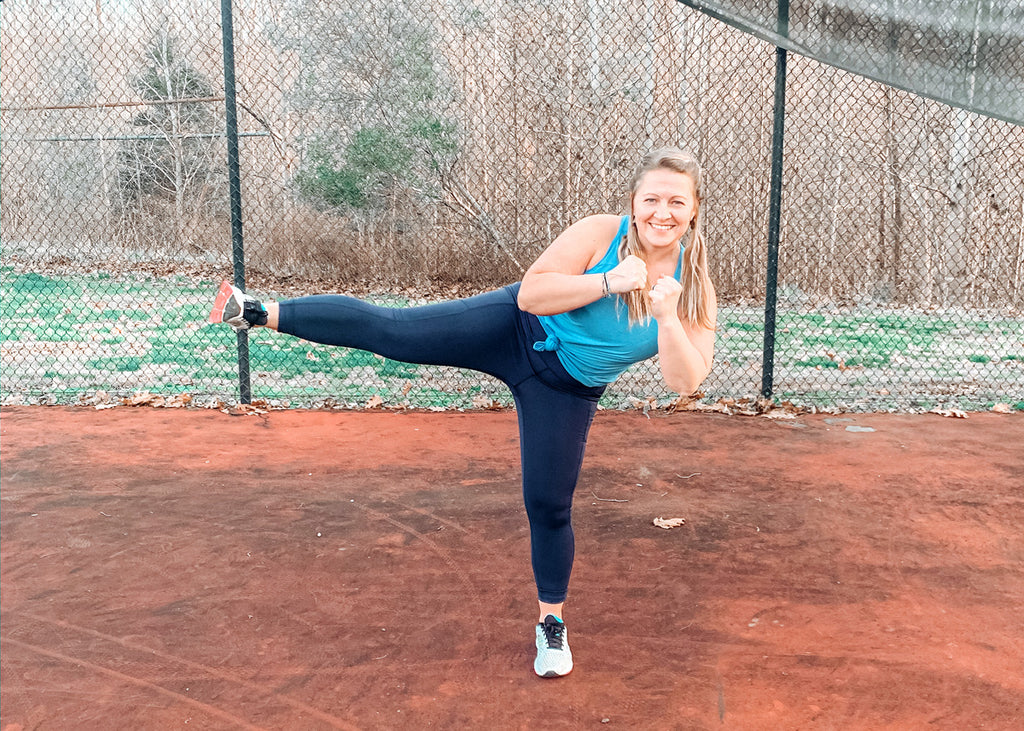 By Christi Mackey, Contributing blogger (@totallychristi)
Are you looking to kick up your fitness routine? Kickboxing can seem like an intimidating exercise, but we've found a way to practice at home, without any equipment necessary!
The key to creating momentum is getting started; you have the power to transform and control the direction of your life. Your body is your temple – no matter the shape, texture, color or marks – treat it lovingly and enjoy this fun, kickboxing style workout!
For maximum results, try 3 rounds of this endorphin-inducing workout. Grab your water and let's go! 
Start with 20 jumping jacks and 20 high knees.
Next, complete 20 squats with a sidekick, alternating sides.
Keep in mind when kickboxing, there are four parts to a kick (chamber: planted, think about where you want the kick to land; extension: the leg is extended while engaging the hips for power; re-chamber: recoil the leg back to control or keep balance; plant: putting the leg back down). 
Now, 20 alternating lunge-and-punch moves.
Next, let's do 20 push-ups.
Always be mindful of your form! If it suits you best to have great form on your knees, then do it. Never compromise form! Think hands under shoulders, booty down, feet or knees planted firmly.
Almost done! It's time for 20 bridge jacks with shoulder taps.
In high plank position and feet spread wide, tap opposite shoulder – then jump feet back together with both hands planted on the ground – jump feet back wide and tap the other shoulder. 
Finish strong with 5 burpees and repeat the whole workout 2 times.
Talk about an awesome calorie burn + full body workout! 
Shout out to anyone out there taking care of themselves that may not look shiny or impressive online. Sometimes it's hard to self-prioritize in a world of constant chaos, but know that you are worth taking care of and your well-being is worth investing in! 
Christi Mackey is wearing the Prime Tech Flex Ultra Hold 7/8 Legging and the Prime Relaxed Twist Back Tank in the images above.
---