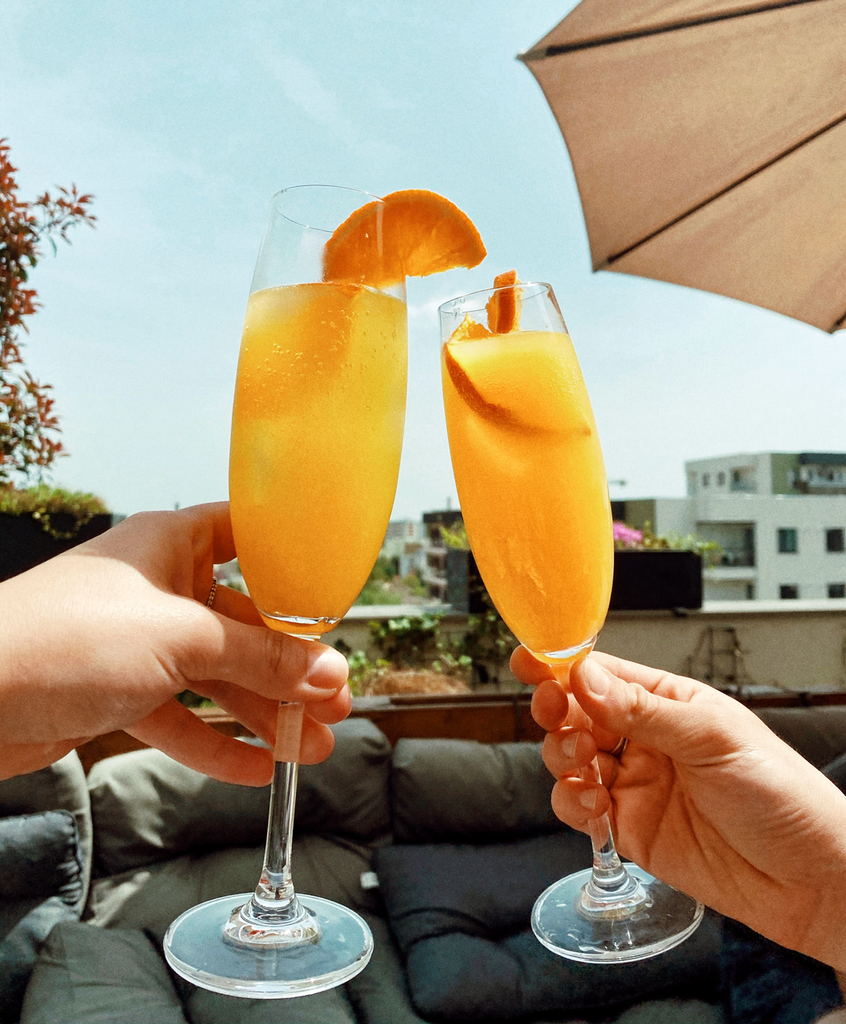 By Amanda Webb, Contributing Blogger
Whether you're gearing up for a race or simply watching your calorie intake, there's no shame in reaching for a summer mocktail instead of an alcoholic drink. There are a lot of perks to choosing one of these healthy summer mocktails over alcohol. 
The main perk is avoiding alcohol. Alcohol can do a number on your athletic performance. It can reduce your reaction speed, inhibit muscle development, decrease your endurance, and affect your recovery times. Plus, it's no secret that too much will just end up making you feel under the weather.
Healthy summer mocktails are not only booze-free but can pack in added health benefits and keep you hydrated. We'll share our favorite recipes for the easiest and most refreshing summer mocktails.
Not only are these mocktails good for you, but we're using ingredients that are likely already in your well-stocked pantry or refrigerator. Between this list and our list of healthy cocktails, you'll be stocked with tasty recipes for whatever you're in the mood for.
Spicy Mango "Margarita"
You will not miss the alcohol in this drink. It's refreshing with a little kick from the jalapeno. Adding jalapenos and cayenne also boost its immune-boosting properties. Also, maple syrup, an all-natural sweetener, is used instead of traditional simple syrup.
Makes 1 drink
Ingredients:
2 fluid ounces mango nectar
1 lime
Maple syrup
2-3 thin slices of fresh jalapenos
6 fluid ounces Plain or Mango-flavored Kombucha
1 teaspoon sea salt & pinch of cayenne pepper for the rim (optional)
 Instructions:
Combine the mango nectar, juice of one lime, a drizzle of maple syrup, and the jalapeno slices in a cocktail shaker.
Prepare a serving glass with ice. If desired, rub the lime wedge along the rim of the glass and garnish with the sea salt and a pinch of cayenne pepper.
Pour the mango nectar mixture into the glass. Top with the sparkling kombucha and gently stir before serving.
Immune Boosting Mimosa
You'll want to drink this every morning and there's no harm in doing so. It's bubbly, beautiful, and packed with Vitamin C and zinc to help your immune system stay strong.
Makes 1 drink 
Ingredients:
1 package of Liquid IV Immune Support or Emergen-C (orange-flavored)
1 can of unflavored or orange seltzer
1 orange, juiced (or 2 ounces prepared orange juice) 
Instructions:
Pour the drink packet into the serving glass.
Pour the orange juice into the glass and dissolve the powder into the juice.
Top with seltzer and serve immediately.
Mint and Blueberry Mojito
Pick a few extra blueberries this summer and use them right away in this delicious mocktail. Blueberries are a great source of antioxidants and are high in Vitamin C. Don't forget the fresh mint, which is a calming herb that can help your digestive system. If you don't have mint, you can use basil instead.
Makes 1 drink
Ingredients:
¼ cup fresh blueberries
3 fresh mint leaves
½ fresh lime, juiced, wedges for garnish
8 fluid ounces plain kombucha or seltzer
1 teaspoon maple syrup
Instructions: 
Fill your serving glass with ice.
Muddle the blueberries, mint, and lime juice in a cocktail shaker.
Add about half the kombucha and maple syrup. Shake the mixer.
Pour the liquid through a strainer directly into the serving glass.
Add the remaining kombucha and garnish it with the lime wedge.
Green Bloody Mary
There is no glamorous way to describe this drink, but you'll be sold on the bloody mary itself. Yes, it's bright green. But don't let that deter you. Sure, you've seen green juice before and suffered through it. You'll actually look forward to serving this green bloody mary at your next brunch. You'll want a high-power blender to make this recipe. 
Makes 2 drinks 
Ingredients:
2 green tomatoes, large diced
2 tomatillos, large diced
5-6 sprigs fresh cilantro
1 cup cold water
1 teaspoon green pepper sauce
1 teaspoon Worcestershire sauce
Pinch of garlic powder
Pinch of cumin
½ lime, juiced
½ lemon, juiced
Salt and pepper, to taste
Celery stalks, olives, lemon wedges, etc. for garnish
Instructions:
Add the green tomatoes, tomatillos, cilantro, cold water, green pepper sauce, Worcestershire sauce, spices, lime juice, and lemon juice to the blender.
Blend on high speed until everything is liquid. Taste and add salt and pepper to your liking.
You have the option to strain at this step. You may want to do this if you aren't using a strong blender.
Fill two serving glasses with ice and pour the drink into the glasses. Garnish with whatever you'd like - celery, olives, lemon wedges, etc.
 
Non-Alcoholic White Sangria
Everyone will love a big pitcher of non-alcoholic white sangria. It's a healthy summer mocktail that has so much versatility. You could make it different every single time. It's a great way to take advantage of the fresh-picked fruit all summer long. A bonus is that you can make this ahead of time. It will stay good in the refrigerator for up to three days. 
Makes 8-10 servings (one pitcher)
Ingredients:
4 cups orange juice
1 cup unsweetened white grape juice
4 cups plain or fruit-flavored kombucha
2 cups fruit assortment of your choice (berries, watermelon, peaches, mangos, grapes, pineapple, orange slices, lemon slices, lime slices, cherries)
Instructions:
Combine all the ingredients into a large pitcher with ice.
Stir everything to combine.
If you won't be serving this immediately, don't add the kombucha yet. Wait and add the kombucha immediately before serving. It's a little bubbly, and it will go flat if it's added too soon.
---