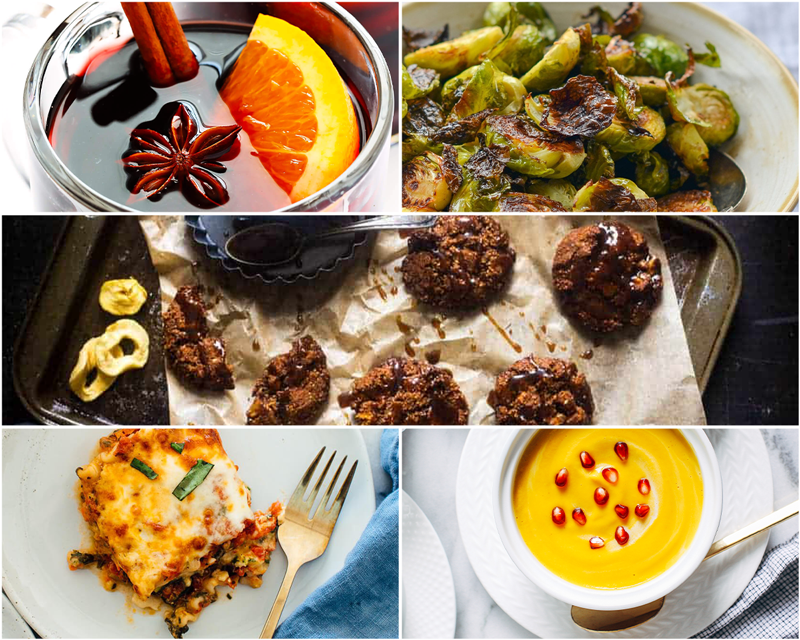 By Jacqueline Parisi, Contributing blogger
It's officially the most wonderful time of the year—and for many of us, the coldest time of year, too. Fortunately, the holidays bring with them comforting, soothing flavors that'll warm you right up. 
These five recipes will help you tap into your cozy side and perfect the Danish art of "hygge." Loosely defined as "a quality of coziness and comfortable conviviality," hygge—which is pronounced "hue-gah" or "hoo-guh"—encapsulates a feeling or a moment of overwhelming warmth and safety. A sense of being present and not having a care in the world of what may have happened in the past or will happen in the future. 
So go ahead, put on those comfy clothes, light a candle or two, start a fire in the fireplace, and whip up these deliciously festive, easy-to-make recipes that toe the line between comforting and balanced. Your friends and family will love 'em. 
1. Roasted Acorn Squash And Apple Soup
Courtesy of Making Thyme For Health
While we're big fans of butternut squash, we're making room for the acorn variety this year. It's slightly milder in taste than butternut, and carries with it a subtle nutty flavor that pairs perfectly with sweet apples. This recipe packs an extra punch and depth of cozy flavor courtesy of warming spices like turmeric, curry, and ginger. 
Not a fan of acorn or having trouble finding it in your local grocery store? Not to worry. It can easily be swapped for Hubbard or butternut. 
Ingredients:
1 large or 2 small acorn squash

1 sweet or yellow onion, finely chopped

3 small carrots, finely chopped (about ½ cup) 

3 small celery ribs, finely chopped (about ½ cup) 

3 garlic cloves, minced

2 granny smith apples, cored and diced

1 teaspoon ground turmeric 

1 teaspoon curry powder

½ teaspoon ground ginger, or 2-inches fresh ginger, minced

2 cups vegetable broth

1 cup full fat coconut milk 
Instructions:
Preheat the oven to 400°F, then line a baking sheet with parchment paper.

Slice the top stem off of the acorn squash, then cut it in half, lengthwise. Use a spoon to scrape out the seeds and softer pieces then rub the outer edges of the flesh with 1 teaspoon oil. Place each half facing down onto the baking sheet and bake until tender, about 45 minutes. It should be pliable when lightly squeezed with an oven mitt. Turn off the oven and set it aside to cool.

Meanwhile, warm 2 tablespoons olive oil in a large pot over medium heat. Add the onion, celery, and carrot and cook 5 minutes. Next, add garlic, ginger, apples, and spices. Continue to cook until apples are slightly tender, 5-10 minutes.

Once the squash is cool enough to handle (or can be carefully handled using an oven mitt), use a spoon to scoop the cooked flesh into the pot. Pour in the vegetable broth then bring to a low boil and cook until apples are soft, 5-7 minutes.

Add the contents of the pot to a blender along with the coconut milk and blend until smooth. Alternatively, you can use an immersion blender and blend everything together in the pot. Season to taste with salt and spices.
Recipe credit: Making Thyme For Health 
2. Roasted Brussels Sprouts With Balsamic Vinegar and Honey
Courtesy of Once Upon A Chef
Don't get us wrong—crispy roasted Brussels sprouts on their own are *divine.* But when you get balsamic vinegar and honey to hug the veggies, cozy magic happens. Added bonus for the fact that this recipe takes 30 minutes flat to come together with fewer than five ingredients. This way, you can spend less time cooking and more time cuddling under the blanket. 
Ingredients:
1 ½ pounds Brussels sprouts, halved with stems and outer leaves removed

1 tablespoon balsamic vinegar

1 teaspoon honey 
Plus extra virgin olive oil, salt, and pepper.
Instructions:
Preheat oven to 425°F and set an oven rack in the middle position. Line a baking sheet with heavy-duty aluminum foil.

Toss the Brussels sprouts with 2 tablespoons oil, plus salt and pepper.  Roast, stirring once halfway through, until tender and golden brown, about 20 minutes.

Drizzle the remaining tablespoon of oil, balsamic vinegar, and honey over the roasted Brussels sprouts. Toss to coat evenly. Taste and adjust seasoning, if necessary, then serve.
Recipe credit: Once Upon A Chef
3. Fruity & Warm Mulled Wine
Courtesy of Gimme Some Oven
Raise a glass to the holidays with a mug of spiced wine that'll immediately warm you up and get the celebrations started. We're partial to this recipe due to its simplicity (gotta love those set-it-and-forget-it recipes) and flavor (cloves! cinnamon! star anise!). Plus, it's equally as delicious with unrefined sweeteners such as honey or maple syrup as it is with the traditional sweet stuff. 
Ingredients:
1 (750 ml) bottle of dry red wine

1 orange, sliced into rounds 

8 whole cloves

2 cinnamon sticks

2 star anise

2-4 tablespoons sugar, honey, or maple syrup 
Optional add-in: ¼ cup brandy
Optional garnishes: citrus slices, extra cinnamon sticks, or star anise 
Instructions:
Add wine, orange slices, cloves, cinnamon, star anise, 2 tablespoons sweetener, and brandy to a large saucepan.  Stir briefly to combine.

Cook on medium-high heat until it just barely reaches a simmer. Avoid letting it bubble—you don't want to boil off the alcohol.

Reduce heat to low, cover, and let simmer for at least 15 minutes or up to 3 hours.

Using a fine mesh strainer, remove and discard the orange slices, cloves, cinnamon sticks, and star anise.  Taste and stir in extra sweetener if needed.

Serve warm in heat-proof mugs, topped with your favorite garnishes.
Recipe credit: Gimme Some Oven
4. Very Veggie Lasagna
Courtesy of Cookie + Kate
Warm: check! Easy to make: check! Chock-full of veggies: check!
This veg-heavy lasagna dish checks all the boxes. Your vegetarian and non-vegetarian guests alike will swoon over it, and the picky eaters at the kids table won't even know there's something healthy in there. While this recipe in particular calls for carrots, peppers, zucchini, onion, and spinach, feel free to mix it up with whatever you have on hand. When it comes to cheesy baked dishes—the queen of cozy—you can't go wrong. 
Ingredients:
For the veggie filling:
2 tablespoons extra virgin olive oil 

3 large carrots, chopped (about 1 cup)

1 red bell pepper, chopped 

1 medium zucchini, chopped

1 medium yellow onion, chopped

5 - 6 ounces baby spinach 
For the tomato sauce:
1 large can (28 ounces) diced tomatoes

¼ cup roughly chopped fresh basil 

2 tablespoons extra virgin olive oil

2 cloves garlic, pressed or minced

optional: ¼ teaspoon red pepper flakes 
Remaining ingredients:
2 cups (16 ounces) low-fat cottage cheese, divided

9 no-boil lasagna noodles

8 ounces (2 cups) freshly grated, low-moisture, part-skim mozzarella cheese 
Instructions:
Preheat the oven to 425°F.

In a large skillet over medium heat, warm the olive oil. Once shimmering, add the carrots, bell pepper, zucchini, yellow onion, and salt. Cook, stirring every couple of minutes, until the veggies are golden on the edges, 8-12 minutes.

Add a few large handfuls of spinach. Cook, stirring frequently, until the spinach has wilted. Repeat with remaining spinach and cook until all of the spinach has wilted, about 3 minutes. Remove the skillet from heat and set aside.

Meanwhile, pour the tomatoes into a mesh sieve or fine colander and drain off the excess juice for a minute. Then, transfer the drained tomatoes to the bowl of a food processor. Add the basil, olive oil, garlic, salt, and red pepper flakes.

Pulse the mixture about 10 times, until the tomatoes have broken down to an easily spreadable consistency. Pour the mixture into a bowl for later (you should have a little over 2 cups). Rinse out the food processor and return it to the machine.

Pour half of the cottage cheese (1 cup) into the processor and blend it until smooth, about 1 minute. Transfer the mixture to a large mixing bowl. No need to rinse out the bowl of the food processor this time; just put it back onto the machine because you'll need it later.

Transfer the cooked veggies and spinach mixture to the bowl of the food processor. Pulse until they are more finely chopped (but not puréed!), about 5 to 7 times, stopping to scrape down the sides as necessary. Transfer the mixture to the bowl of whipped cottage cheese. Top with the remaining cottage cheese, then add ¼ to ½ teaspoon salt (to taste) and lots of freshly ground black pepper. Stir to combine. 

Spread ½ cup tomato sauce evenly over the bottom of a 9" by 9" baking dish. Layer 3 lasagna noodles on top (snap off their ends to fit, and/or overlap their edges as necessary). Spread half of the cottage cheese mixture evenly over the noodles. Top with ¾ cup tomato sauce, then sprinkle ½ cup shredded cheese on top.

Top with 3 more noodles, followed by the remaining cottage cheese mixture (we're skipping the tomato sauce in this layer.) Sprinkle ½ cup shredded cheese on top.

Top with 3 more noodles, then spread ¾ cup tomato sauce over the top (you may have a little sauce leftover) to evenly cover the noodles. Sprinkle evenly with 1 cup shredded cheese.

Wrap a sheet of parchment paper or foil around the top of the lasagna (don't let it come into contact with the cheese). Bake, covered, for 18 minutes, then remove the cover, rotate the pan by 180° and continue cooking for about 10 to 12 more minutes, until the top is turning spotty brown.

Remove from oven and let cool for 15 - 20 minutes so it has time to set at a reasonable temperature. Sprinkle additional basil over the top, then slice and serve.
Recipe credit: Cookie + Kate
5. Healthier Ginger Snaps With Caramel And Apple
Courtesy of Food Faith Fitness
For a paleo twist on your holiday dessert that won't sacrifice flavor or comfort, look no further than these ginger snaps. They have all the festive flavors you love—caramel, apple, ginger, cinnamon—without the dreaded sugar high (and crash) you don't. You can thank naturally sweet coconut sugar, blood sugar-balancing spices, and healthy fats for that. 
Ready, set, bake! 
Ingredients:
For the caramel sauce:
½ cup coconut sugar

2 ½ tablespoons grass-fed butter

¼ cup full fat coconut milk
For the cookies:
¼ cup coconut oil, melted

1 cup coconut sugar, plus additional for rolling

1 large egg white 

2 tablespoons molasses, plus 2 teaspoons

1 ½ cups finely ground almond meal, plus 1 tablespoon

¼ cup coconut flour, sifted

1 ¾ teaspoons baking soda

½ teaspoons salt

½ tablespoon ground ginger

2 teaspoons cinnamon

½ cup dried apples, lightly packed and diced
Instructions:
To make the caramel sauce:
In a large pan over medium heat, combine all of the caramel sauce ingredients and stir until smooth and well mixed.

Bring to boil and cook, stirring frequently, until the sauce begins to thicken, about 3-4 minutes.

Transfer to a bowl and immediately refrigerate to let the sauce cool and thicken up more.
To make the cookies:
In a large bowl, beat together the melted coconut oil and coconut sugar until the sugar is moistened.

Add in the egg white and molasses and beat again until smooth and well mixed.

Add the remaining ingredients, up to the dried apples, into the bowl and stir until a sticky dough forms.

Add the diced apple and stir until they are evenly dispersed into the dough.

Place the bowl into the refrigerator for 10 minutes to make it easier to roll.

Once chilled, preheat your oven to 350°F and line 2 cookies sheets with parchment paper or a silicone liner. Additionally, pour some coconut sugar into a shallow plate with sides.

Roll the dough into heaping tablespoon balls and then roll into the coconut sugar. Place onto the prepared cookie sheet and lightly press to slightly flatten the ball out. Repeat with remaining dough.

Bake until the edges are lightly golden brown and crispy, about 15 minutes. Note that they set up a lot while cooling. Let cool on the pan completely.

Once cooled, drizzle the chilled caramel sauce and DEVOUR. 
Recipe credit: Food Faith Fitness
Looking for more cozy, seasonal dishes to add to your holiday rotation? Look no further than these three healthy fall recipes.
---