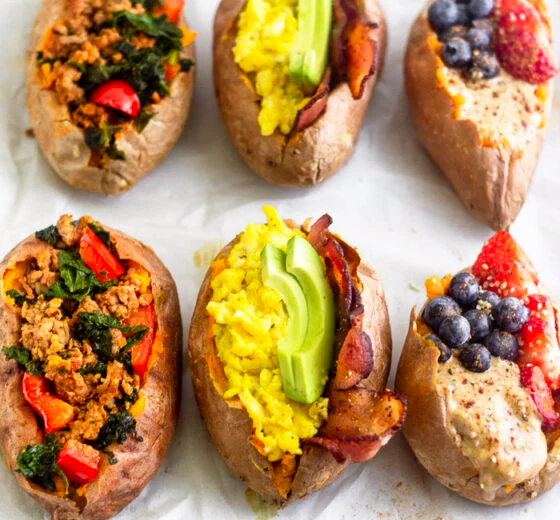 By Amanda Webb, Contributing Blogger
I recently saw a post from another busy mom sharing a photo of her on-the-go dinner and she called it a "Baseball Bowl" and I could not relate more! Whether we are parents or not, the increased daylight created a lot more space for us to be busy in the evenings.
But whether we're running to the gym, meeting friends in the park, or watching our kids play sports, we still need to eat dinner. And instead of stopping at the local drive-thru or mindlessly snacking to hold us over, we need some easy and healthy dinner options that we can eat on the go. 
Here are some really simple and nutritious meals that you can put together in just a few minutes and pack away for when you're out and about at dinner time. But first, here are some things to keep in mind when making these dinners.
Tips for Easy On-The-Go Dinners
Find a good container.

It doesn't need to be a fancy expensive option! You can find reusable to-go containers right at the regular grocery store. You can find ones with or without dividers, just make sure that they are big enough for a hearty and wholesome meal.

Use ingredients that will stay fresh for a longer period.

Some ingredients to avoid would be avocados and apples because they might brown if they are stored for too long. Ingredients like carrots, celery, diced chicken, grapes, and roasted vegetables will hold up nicely.

Keep sauces and dressings separate.

I love to use mini mason jars to hold my sauces and dressings. If you put them on your food too soon, the rest of the ingredients will get soggy and lose their texture.

Use up your leftovers.

These dinners are a great way to use up leftover proteins and roasted vegetables. It makes them that much easier to put together.
Recipes
Note: All of the recipes are for one serving.
Greek Chicken Bowl
Ingredients:
1 cooked chicken breast, cut into cubes
1 cup cooked quinoa
1 tablespoon chopped fresh parsley
½ cup diced cucumbers
salt and pepper, to taste
½ cup whole grape tomatoes
1 tablespoon olive oil
2 tablespoons plain Greek yogurt
1 teaspoon dried dill
1 lemon 
Instructions:
Toss together the quinoa, parsley, and cucumbers. Season with salt and pepper.

In a to-go container, add the quinoa, chicken, and tomatoes. (You can pile them on each other or use dividers if you have them).

In a small jar mix together the olive oil, yogurt, and dill. Add the juice from half of the lemon.

Slice the other half of the lemon into wedges and put them in the container with the other ingredients.

When you're ready to eat, squirt some of the lemon wedges over the whole meal and then pour the sauce over the chicken and quinoa (or you can use it as a dip).

 


Adult Lunchable Box
Ingredients:
pepperoni or salami, sliced
crackers
cheddar cheese, cubed
grapes or berries
a small handful of nuts, of choice
pieces of dark chocolate
Instructions:
Place all of the ingredients into your container and you're good to go! While this recipe may not seem like a recipe at all, take it as a simple reminder that you can put together a fulfilling meal with simple ingredients and it doesn't always have to be complicated!

Don't forget to add a little treat for yourself (like dark chocolate!).


Cold Pesto Pasta with Chopped Ham
Ingredients:
1 cup cooked pasta (penne or another mid-sized noodle is great)
1 cup cooked chopped ham
1 cup spinach or kale, chopped fine
¼ cup pesto
1 lemon
¼ cup toasted pecans or walnuts, chopped
Instructions:
Toss the pasta with the chopped ham, spinach, and pesto.

Place the pasta in a to-go container.

Cut the lemon into wedges and add to the container.

Top the pasta with the chopped nuts.

When you're ready to eat, squirt the lemon juice on top of the pasta and gently mix together.
Sweet Potato Brunch for Dinner
Ingredients:
2 hardboiled eggs, halved
¼ cup crumbled bacon (cooked)
1 cooked sweet potato, sliced in half
½ cup cooked broccoli, chopped
¼ cup plain Greek yogurt
Everything Bagel Seasoning
Instructions:
Place the sweet potato halves in the container and lay the hardboiled eggs next to them (yolk side up).

Put the bacon and cooked broccoli on top of the sweet potatoes.

Scoop the greek yogurt into a small container or mason jar.

Sprinkle the sweet potatoes and eggs with the Everything Bagel Seasoning.

When you're ready to eat, add the yogurt on top of the sweet potatoes and enjoy!
More Simple Dinner Options
Sandwiches:

This is a great family-friendly option. You build a sandwich at home and have it ready for when you are out and about. Check out this easy sandwich recipe with all of the best fixin' ideas!

Salads:

A salad is a given, but the key is making it substantial enough to keep you satisfied. This Lemon Kale and Quinoa Salad is perfect.

Soup:

If it's still chilly where you are, and you have a thermos, try an easy Crockpot Soup for dinner. Don't forget to bring some hearty sides with you like cheese and crackers.
---